Published on: 8 Sep 2022 at 10:06
Alpine crossing Berchtesgaden – Lienz preparation
Short trip!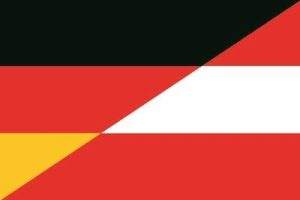 2022.08.28 Achim – Berchtesgaden Arrival
Hello, today we started at 6:30 am in Achim train station by train to our adventure crossing of the Alps. Punctually shortly after 17:00 we reached Berchtesgaden.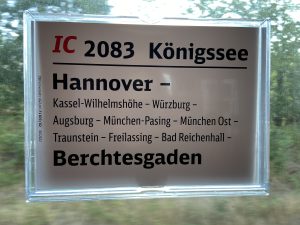 A short walk to the hotel Café Waldstein along the Königsseer Ache (small river) was already a bit of alpine feeling.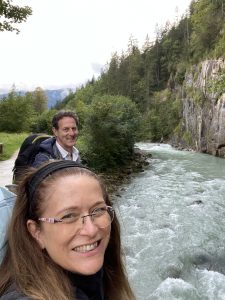 Ps.: my backpack including the things I wear, hiking boots, … 1.5 l water and 0.3 l coffee weighs 12.2 kg.
In the evening we had delicious bread dumplings with mushrooms and Berchtesgadener Hofbrauhaus beer.
Silke
2022.08.29 Schönau at Königssee – Kärlingerhaus
After a good breakfast we started this morning at 8:30 our 1st hiking day. After about 3.8 km along the Königsseer Ache we reached the landing stage for the E-boats to St. Bartolomä and Obersee. With sunshine and mirror-smooth water it went approx. 30 min over the king lake. Our captain played on the way on the flugelhorn a serenade with echo!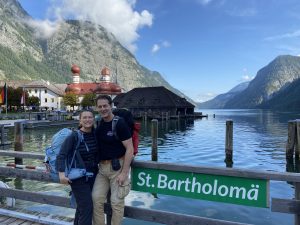 After a short visit to the small but very beautiful church, we continued on foot towards Kärlinger Haus. We spontaneously took a cold shower for refreshment under a waterfall along the way. The path went quite steeply up through forest sections and over scree. A second break with rolls was under a rock wall at a Jesus cross and watercourse.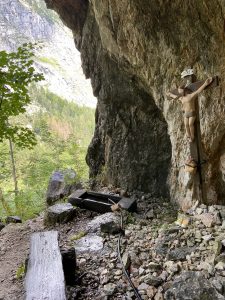 Further it went steeply up over serpentines to about 15 min before arrival slightly downhill past bleating sheep our today's accommodation at shortly after 16:00 clock came into view. We sleep in the four-bed room with two bunk beds and cold shower in the hallway and picturesque view of the Funtensee! Dinner today: – Flädlesuppe and Chilli sin Carne. Now we sit full and satisfied with a glass of beer and ski water in the restaurant!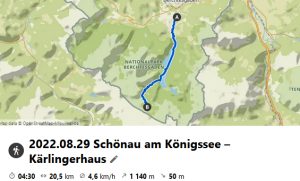 Silke
Ps.: On the hut and the way there is no Internet!
2022.08.30 Kärlingerhaus – Maria Alm
In the hut there was a good breakfast buffet with regional organic products (among other things apple honey) The second hiking day started at shortly after eight o'clock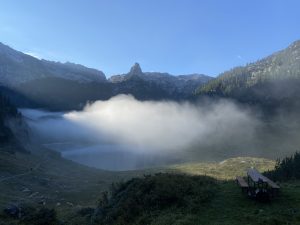 with clearing fog through the stony sea up to the Riemannhaus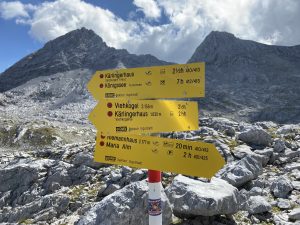 up to the Riemannhaus. A very steep long descent down the rock face followed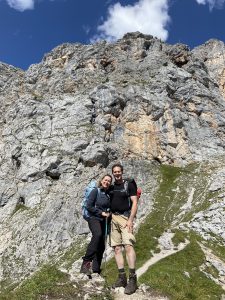 followed into the village of Maria Alm, where we slept in a nice little hotel Annerlhof.
Silke
2022.08.31 Maria Alm – Statzerhaus
Today 100 percent rain was forecast and unfortunately the weather forecast was right.
The ascent was quite easy to walk compared to the first two days! There were huge mushrooms along the way!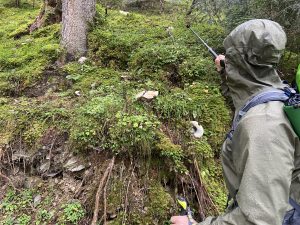 Despite our high-tech rain gear, we arrived quite wet at 14:30 in our accommodation today, the Statzerhaus, at 2017m!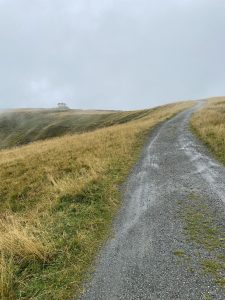 The view was now and then through a hole in the clouds to guess!
We sleep in the multi-bed room with washbasin and toilets in the hallway. In the heated guest room there is immediately cheese dumpling soup.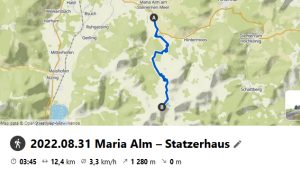 Silke
2022.09.01 Statzerhaus – Bruck
After a cat wash and a rustic breakfast with coffee, bread, cheese and jam we started at 9:12 to Bruck. Like yesterday we started again in the rain, which gave way to the sun in the course of the day.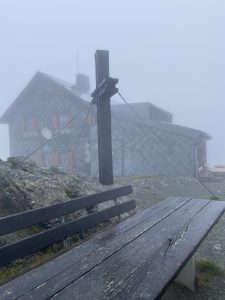 We got a bit lost behind the Adam and Eve Lake and the Moosalm and therefore we were on the road via Gries for about 1.5 hours or just under 7 km longer!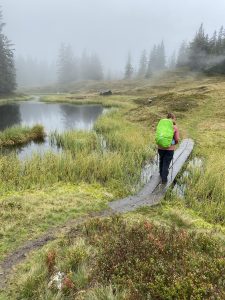 At 16:15 we reached the Hotel Lukasmayr, where we sleep today . In the evening there was a barbecue buffet with delicious appetizers and ice cream and Black Forest cake for dessert. By the way, here in Bruck the Großglocknerstrasse starts directly in front of our hotel!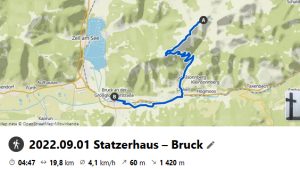 Silke
2022.09.02 Bruck – Trauneralm
Today we started at 10:00 am in super sunny weather in Bruck to hike via Fusch and Ferleiten to the Trauneralm.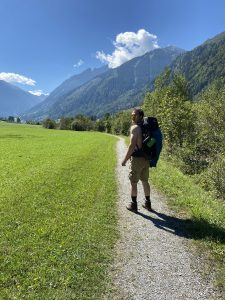 Unfortunately the planned and signposted "Fuscher Höhenweg" was closed! The barrier was only at the top of the crossroads, so we had to turn around and walk back to Fusch!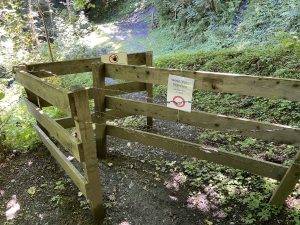 We then decided to take the bus for the approx. 5 km long stretch to Ferleiten, since we also lost time by searching. At the section is also no bike and footpath. We used the 45 min waiting for the bus for a lunch break.
The hike through the Käfertal, from Wildpark Ferleiten, was then again beautiful. With a slight incline, it went along a path past a Kneipp facility with clear views of waterfalls, the mountains and glaciers! On the green meadows horses and cows!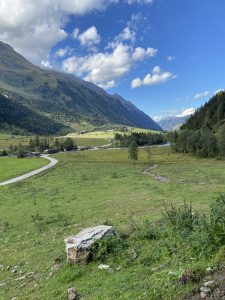 Then shortly before 18:00 we reached the Trauneralm, an old but very charming hut. We sleep in pairs in a 7 bed room! There is a hot shower and a toilet for about 30 guests! As dinner we were served a baked pea soup, chanterelles with ribbon noodles and cherry pie! Everything very tasty! The starry sky is fabulous!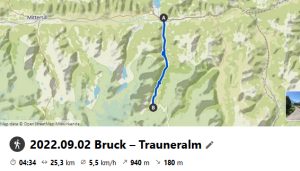 Silke
2022.09.03 Trauneralm – Glocknerhaus
Since the weather was supposed to change into rain and fog from noon on, we started today already at shortly after six, before sunrise! Coffee was already available and we could take our sandwiches with us.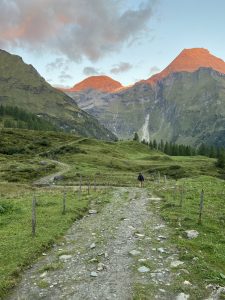 At the lower Pfandelscharte we followed the hikers in front of us and took the wrong path over a steep scree field. The group after us (with mountain guide) got to the summit cross much easier and safer!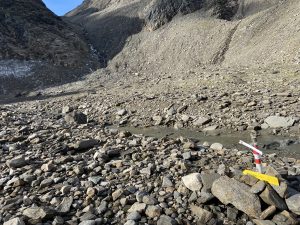 After a strenuous climb, we reached it and took a well-deserved break. Then we scrambled up a piece of the "Spielmann" (3000m) but already turned back prematurely! The weather (and the steep descent) have kept us!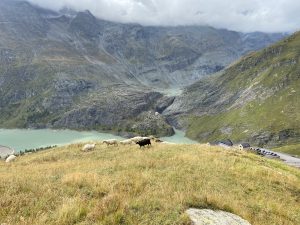 Further to the Glocknerhaus we went through a scree field and then over gentle hills to the finish. A few sheep greeted us happily bleating!
In the Glocknerhaus we have a double room with private bathroom! It is somewhat larger and is located above a reservoir on the Grossglockner road with a view of the Grossglockner
Salad and plum cake were good, the rest (spinach) rather not. But we had a very nice evening with our fellow travelers Kerstin and Michael from Erfurt.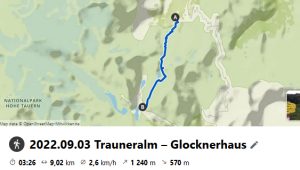 Ps. : around 16:00 o'clock it actually began to rain and fog came up!
Silke
2022.09.04 Glocknerhaus – Elberfelder hut
Start 8:14 a.m.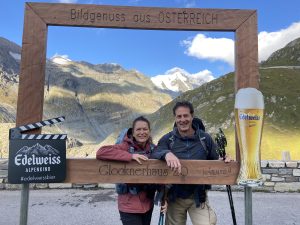 Go at the reservoir Margaritze in super weather with a view of the Großglockner .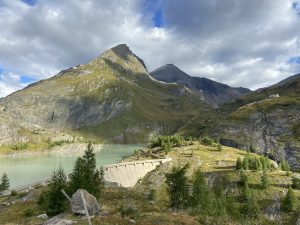 First it went along the edge of the gorge always slightly downhill , then through a forest until we turned off at the Trogalm in the Größnitztal . A beautiful path along a small river mostly uphill ,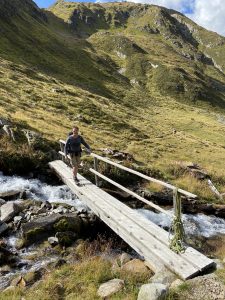 which was crowned by the view of cute marmots!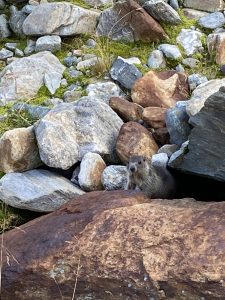 Dinner spinach dumplings very tasty!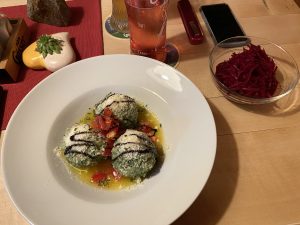 Then the film " the forgotten WAY" was shown, which was shot in this hut with our hut host and about the Schober mountain group.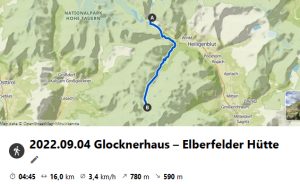 Silke
2022.09.05 Elberfelder hut – Wangenitzsee hut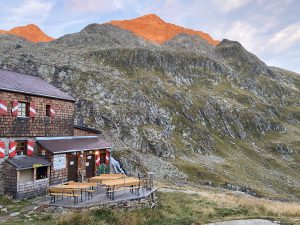 Start 8:16 am in nice weather Arrival 17:35 pm in rain.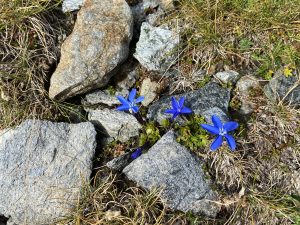 We are again uphill ( second highest point of our alpine crossing)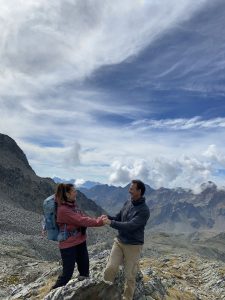 and downhill over scree and narrow paths along a lake and a river. On the way we saw marmots again.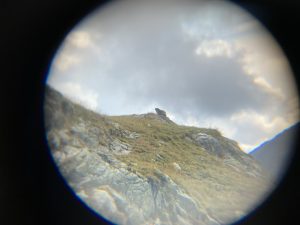 One was sunbathing, another was squeaking and trying to crawl into a small hole. From the Lienzer hut it went steeply uphill over meadows past a swallow wall and high over serpentines up the saddle to the Wangenitz and Kreuzsee. Completely out of breath we reached the Scharte and could take the first look at the lakes and the hut.
700 m before the hut it began to rain, so we arrived quite wet. A beautiful rainbow crowned our day!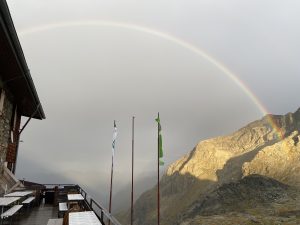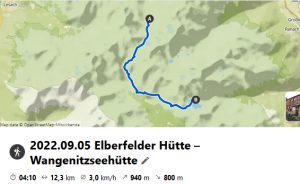 Silke
2022.09.06 Wangenitzsee hut – Lienz
Our last stage had it again in itself. On a rock face (partly "secured" with steel ropes) up to the upper Seescharte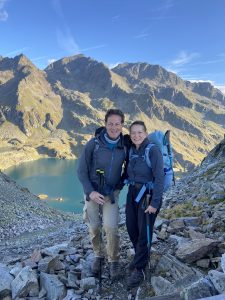 and then we crossed a steep slope descending into the Debattal on a narrow "exposed" path (with a steep drop on the valley side) .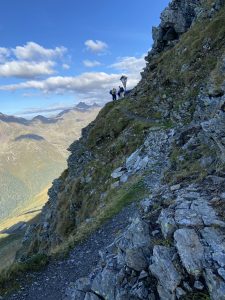 After that we (I! Because unfortunately yet not quite free from giddiness) could continue hiking relaxed.
A long path led us back to the tree line and past alpine pastures,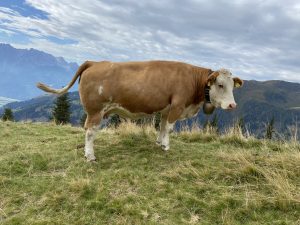 villages and the Drau past to Lienz. In a stream bed we discovered a paw print (Luchs?).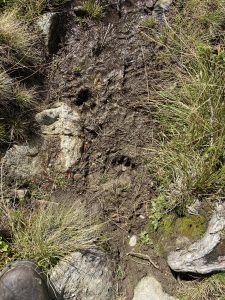 In Lienz on the Drau bridge we celebrated our destination with a little Schaps!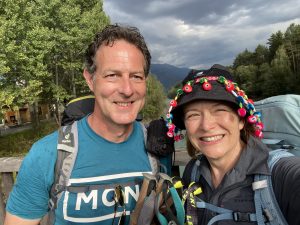 (A couple from Berlin and Wiltrud from Bavaria also arrived just before! We met on and off along the way).
A double rainbow over the Schobergruppe said goodbye to us.
In the evening we wanted to go out for dinner, but then we changed our minds and went back to our hotel (Falkenhorst) and fell tired into bed!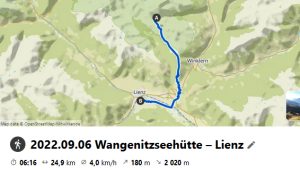 Silke
2022.09.07 Journey home Lienz – Bremen
Today we made our journey home by bus and train.
In a bakery we stocked up with provisions for the journey.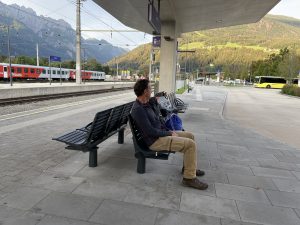 From Lienz we took the ÖBB bus 950x to Kitzbühel at 7:35 am – 9:22 am. Very curvy route but beautiful view! From Kitzbühel we continued with the RE3 from 9:35am- 10:08am to Wörgl,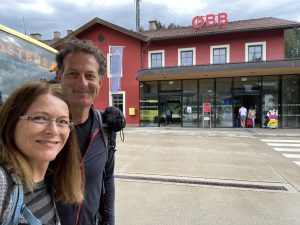 where we used a slightly longer change to buy salad, crochet wool and stickers for the backpack.
We continued on to Kufstein on Railjet Express 161 at 10:43- 10:51 a.m. I got to check out the on-board restaurant. Nice Austrian colleagues let me look! There is a spare espresso coffee machine, which comes into use when the "normal " fails. Otherwise, the galley is similar to ours in the ICE.
From Kufstein, the RB54 took us to Munich from 11:02am- 12:19pm.
(I bought the tickets to Munich in the ÖBB app for 52€ pP by credit card).
From Munich we took the ICE 506 to Nuremberg from 12:55pm- 2:01pm. In Nuremberg we took a short walk into the city.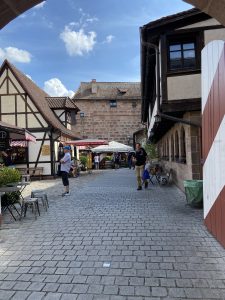 At 14:29 – 18:33 we continued with the ICE 786 to Hannover. The long stretch was spent playing a game of Carcassonne (iPhone)! The RE1 at 19:20 drove us to 20:26 to Achim.
Melina picked us up there by car 😘.
Lienz- Achim by bus and train, a total of 7 times change, 7:35 clock to 20:26 clock
= 12 hours and 52 minutes!
(with the car we would have needed according to maps.me for the 973 km wide distance 9 hours and 1 minute!)
At home my parents surprised us with a visit, so that we could tell extensively about our experiences with a little glass of wine.
Silke
Small extra to our equipment / packing list
– Everything before double check and unpack!!!
In Maria Alm we had to buy a new hut sleeping bag for Reiner, because in his originalvepacking "surprise" a pillow was inside!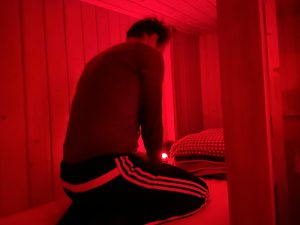 – Shoes
On the next hike I would take other hut shoes. Regular Crocs with the stirrup removed. My (Crocs) sandals were annoying because the stirrup is always folded down and they pressed on the toes, which need rest after long descents. But our hiking shoes from Meindl are still the best! (Shoe room in the Kärlingerhaus)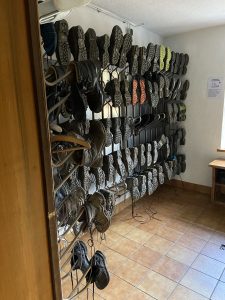 – Backpacks/clothing packing list
We weighed our backpacks again at home.
Silkes backpack – Deuter Futura 30 SL
– 7,65 Kg + water 1,5 Kg
Reiner's backpack – Deuter Trail Pro 36
– 11,1 Kg + water 1,5 Kg
Since you are always tweaking, I would pack one less t-shirt next time. So
– two hiking shirts (1 short and 1 long sleeve),
– one sleeping shirt,
– two pairs of underwear and socks (Falke TK2),
– a pair of hiking pants to "zip off",
– one pair of light gym pants for the hut,
– four jackets (knitted/fleece, wind, rain, down),
– a tube cloth, gloves,
– a light towel and swimming trunks/bikini.
We have been able to do laundry in the hand wash basin or bathtub three times along the way, and there is a drying room in most cabins ( which is violently smelly, but where the shirts and pants are dry the next morning). Merino shirt and underwear have proven their worth.
– Sun hat and good rainwear are essential!
– Hiking poles,
– sunglasses and reading glasses,
– Titanium cutlery and mugs,
– mini toilet bag ( tissues, sunscreen, earplugs!)
– bandage kit,
– a power bank
– possibly a camera/Gopro
– binoculars
– a headlamp,
– Small (Sigg) bottle and light 1.5l pet bottle.
– an emergency ration of food, e.g. cashews and oat bars.
Our mini kettle will stay at home next time. Every gram counts!!!
For IDs, tickets, pens small notepad and money I had
– a small fanny pack and a mini ziplock bag.
An overnight stay in a hut for two people including half board and drinks cost about 140€-180€ in cash (- if we had been members of the Alpine Club there would have been a discount of about 10€ per person).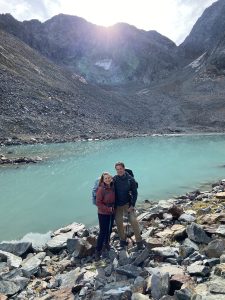 With the listed things we would be able to hike for weeks more!
Silke