We enjoyed our breakfast today in the sunshine wearing winter jackets and gloves. It gets warmer very quickly after sunrise, but starts at about 1 degree Celsius. Then we sat down in the reception to book a flight and accommodations over coffee. We then continued north past Bremen.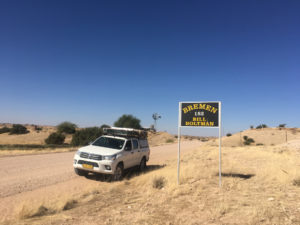 Once again we went to the Game Reserve Bagatelle. This time we booked a campsite and a sundowner game drive with cheetah feeding via the internet. After we had eaten our dinner, polenta with vegetable schakalaka, we were off. The cheetahs have come here partly as orphans and would most likely not survive long in the wild. Bzw. be shot by poachers. The oldest cheetah here "Etosha" is 17 years old. He likes to be cuddled during feeding time.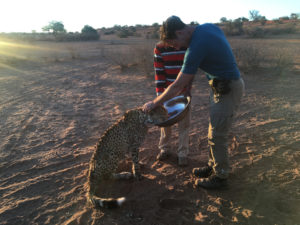 We both once took the opportunity to be very close to the beautiful animals. "Kiara", a younger female cheetah still has to learn to become more relaxed and that she can trust people. The animals are fed with fresh meat three times a day. Since in nature they also eat small portions of fresh meat several times a day. They have a total of 8 cheetahs here in the Game Reserve, living in large enclosures of 3 groups. Cheetahs are super fast animals (up to 120 Km/h) and they need a lot of exercise. Breeding is not allowed in captivity. That's why the cats here are separated into male and female. We had the impression that the big cats like it here well and they are kept as species-appropriate as possible and lovingly. There were then still at sunset drinks at a bar on a dune. "Sundowner!". We walked to our campsite and planned further with a cup of tea.
Silke