At 7:30 am we said goodbye to Chantal and Sven.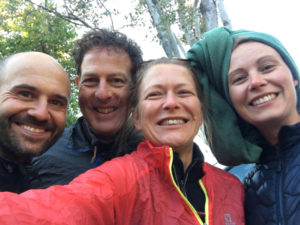 Have a great rest of your time in Botswana and Namibia. We were picked up by a game drive jeep, on which we promptly met the next world travelers Jan and his wife. They are traveling in the same time frame as us, but started in Singapore.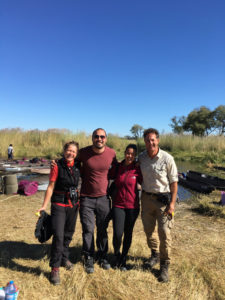 They are doing the trip to the Okavango Delta that Reiner and I spontaneously signed up for yesterday, over 2 days, with an overnight stay in a tent in the bush. After our experience with the elephants, I was not yet comfortable again. Funny how different world travels are. There are usually a few points of intersection, but everyone has different experiences with the people, the food, the accommodations, etc. . Thus, of course, also quite different stories come about. Anyway, the tour today was wonderful and relaxing. 2 hours each jeep – mokoro boat – walking through the bush – mokoro boat – jeep. The boats are very narrow and seat shells were put in, for two guests each. Our guide "Locke" transported us safely with a wooden stick through the river landscape overgrown with reeds and pretty water lilies. Wonderfully tranquil. We saw some birds, dragonflies and elephants in and around the water. The walk through the bush led over an island to a waterhole where hippos, a crocodile and an elephant could be seen. A herd of buffalo ran away from us through the bush and since a few buffalo did not run with us, we changed our route. After a sandwich – lunch, we went back to the starting point by boat.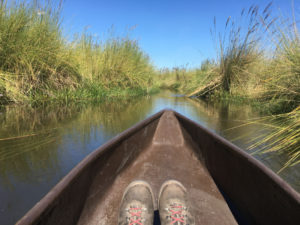 By jeep, we were back at camp around 5:30pm. We cooked ourselves noodles with Schakalaka. Afterwards we sat down for a while in the bar with a coke and a non-alcoholic beer at the campfire.
Silke