At shortly before seven the sky started to get brighter. Of course we first looked at the footprints of the lions again.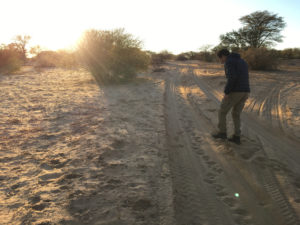 We started for the gate at 7:20am, paid our bill and then drove the 181km to Nossob Valley where we arrived at 4:05pm. On the way we saw again these giant nests in the trees.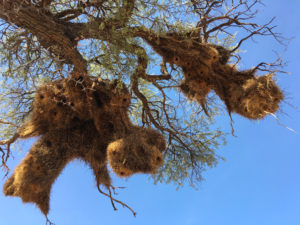 Vultures, jackals, eagles, oryx, wildebeest and ibex were at the few waterholes, some of which were dry. At the fenced South African Park – Campsite many ground squirrels welcomed us. We cooked pumpkin vegetables in cheese sauce with rice and stopped by the (lit) waterhole. Jackals and springboks were there drinking. The full moon additionally illuminated everything nicely.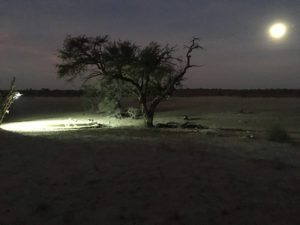 Since it gets to the frost line here at night, with 28 degrees during the day, we slept very well and nice and warm in double sleeping bags. The jackals from the waterhole plundered our garbage can during the night.
Silke