A bit late, at 11:10 am we started from Ghanzi. Our destination today was the Kgalagadi Transfrontier Park.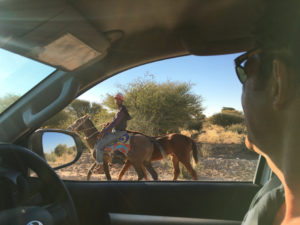 Shortly after sunset, we reached Kaa – Gate, where a staff member directed us to the nearby campsite.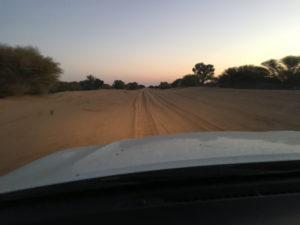 We can pay tomorrow morning. Here we sleep in the middle of nature. A plum toilet and a cold shower all to ourselves! For dinner we had a sandwich and then off to the nest!
Silke
Ps.: After we had played a round of Carcassonne, and the daily report was ready, I wanted to go to the toilet again briefly. Just as I opened the entrance to the tent strolled two lions past the toilet. They probably ran to the water hole. I didn't "have" to spend the night. (Thanks to Alessa for the tip with the bucket! When woman knows that for all cases plan B (bucket) is ready, the psyche plays along (-; ). Just yesterday in Ghanzi the landlady told us: "Africa is not for sissy's!" .
Silke