Today we started directly from the train towards Olchon! The island on Lake Baikal is about 300 km from Irkutsk and can be reached by minibus. Right in front of the passenger station we were pressured by several taxi drivers to drive with them. The trip to Khuzhir would have cost 25,000 rubles. Luckily we found another taxi driver who drove us for 400 rubles to the bus station 5 km away. From there, the trip cost 2,500 rubles for 2 people and 2 bags!
The departure was at 13:00. Fast is not an expression of the driving style, only flying would have been nicer! The highway to the ferry is well developed but one was still quite shaken. Since there are hardly fenced meadows and pastures, cows and horses often ran around on the road, so that the driver had to brake!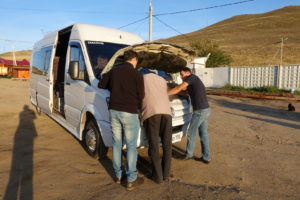 The car ferry then takes us in calm water at about 17:30 o'clock. Unfortunately, the driving style probably did not do the engine any good. Reiner, the driver and a few more men have been diagnosed with a defective cylinder head seal. While we were waiting for a replacement bus, we had a nice sunset. The replacement bus drove us directly to the hotel. Arrival about 7:30 p.m.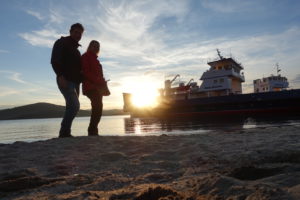 On the bus we met Jonas, a student from Heidelberg. He spontaneously changed his travel plans and started directly from the ferry pier to the trekking tour to Khuzhir.
Silke