The night bus to Sapa departed Hanoi at 23:00, two hours later than planned. In the end, this was quite good, because we arrived in Sapa "first" at 5:45 a.m. and had to wait until 11 a.m. in our hotel for our room. We used the time and had breakfast. The bus itself was not so comfortable. Three double-decker seats next to each other and very narrow foot shells. One thin ceiling per seat. The air conditioning was directly above Reiner (cold!). The shoes had to be packed in a plastic bag at the entrance. There was no toilet on board, but breaks were made. Nevertheless, it is a good alternative to travel here by night bus, because the train station is an extra hour outside the city of Sapa.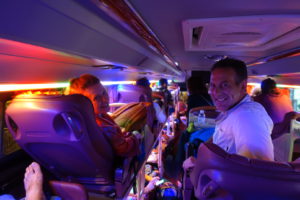 Our room at the "Stunning View Hotel" is very spacious and has a small balcony with wonderful views.After a warm shower we are off to the rice fields. A very nice hiking trail about 5.5 km to the village catcat. Passing playing children, water buffaloes (they are cozy and do nothing!), Pigs and chickens passing through bamboo forests past a waterfall.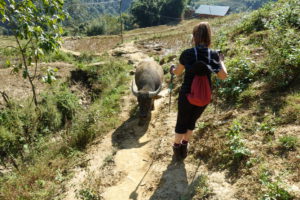 In the evening we were very tired, because the bus night was very short and the discussions yesterday with our concierge mega-strenuous.
Silke