Today we had the capital on our agenda. After an extended breakfast we got some tips from the owner of our accommodation "Amsterelhuis" for the city walk. We feel really comfortable here.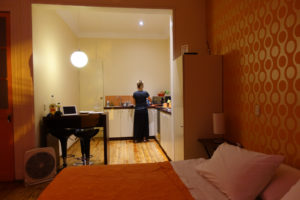 That's why we didn't leave until noon. Since we were once again located in the center, everything was within walking distance. Our impression: Clean, friendly and safe. Almost South-European. The districts Bellavista, Bellas Artes, Lastarria and Italia offer something for every taste. With the food we are still a little on war foot, but we do not give up and test diligently further. Today, for example, we had a "Queen" at the Café "Wunderland" on a recommendation. Consists of milk, peanuts, caramel, chocolate, cream and two granola bars.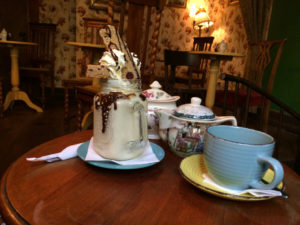 As I said, we continue to test diligently. The ambience fit in any case. Everything reminded of Alice in Wonderland. Weather: sun, no clouds, during the day 27-30 degrees.
Reiner
ps.: Reiner spontaneously stopped at a hair salon. Good haircut and two cups of coffee including 8000 CLP. Silke