Breakfast was served at the hotel and then we took the road further down the coast. Today we saw a bit more of the landscape. Lots of coniferous and mixed forests on small mountains, Black beach on the coast of Tirua, .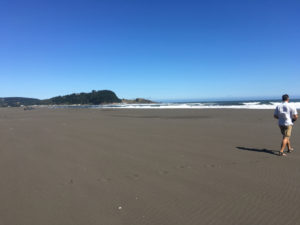 Ox carts on the highway, old steam locomotives in Carahue (museum), Lago Villarrica and finally the majestic active volcano Villarrica south of Pucon. At 5:45 p.m., we arrived at the Elementos Eco Lodge Hotel with Sarina and Nayeli, with whom we traveled through the salt flats. Since Sarina was still busy in town, we were first greeted by the pets cat Lulu and dog. .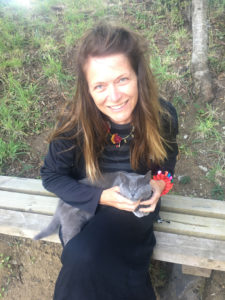 The staff member Hector gave us the key to a lodge and we enjoyed the beautiful view of the volcano from our balcony with a glass of wine (and Carcassonne). It is a beautiful place, the rooms are new and very tastefully and comfortably furnished. Some of the furniture is made from whole tree trunks. Shortly after that Sarina and Nayeli came home. Since Nayeli has school from 8:00 – 16:00 clock it went for her immediately in the bathroom and in bed. She had already eaten dinner. The rest of us have prepared a snack and chatted nicely.
Silke