This morning the alarm clock rang again "before we got up". At 6:00 am we had to be in Pucon in front of the travel agency "Turismo Pucón" to climb the volcano Villarrica with a group of 7 tourists and 3 guides. Yesterday evening at the booking we already tried on the equipment. Jacket, pants, slide pants, plastic slide, gaiters, shoes, wool gloves, waterproof gloves, gas mask, helmet, ice axe, spikes, possibly sunglasses and a backpack will be provided to each participant. Our Abgentur had already somewhat older material, but technically fully ok. Drinks, fruit and sandwiches were brought by everyone. (Total costs 70.000 CPL pP. varies from agency to agency). Reiner and I have decided at short notice but to put on our own hiking boots, after the guide has shown us that the spikes do not scratch the upper leather.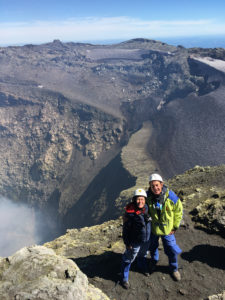 Shortly after 6:00 am we drove in the van about 40 min to the national park and climbed up to the first stage in strong wind and in the dark. When it is less windy, there is also a chairlift in operation there that saves you the first hour of climbing for 10,000 CLP. We did not have this option today. At the top station of the lift was then our first short break. The guides were very competent and super nice. In Spanish and English everything was explained in detail and evenly without hurry or driving in single file it went up the mountain. At the third rest stop before the glacier ice we put on our overpants and spikes. At the fourth rest stop, a Chilean couple decided to break off and turn back. A guide walked down with them. The rest of us tackled the last two stages and reached the summit after nearly 5 hours. Thunder and smoke greeted us as a reward for the effort. And of course an amazing panoramic view! Each group is allowed only a few minutes to linger at the crater rim. After that we started the descent again. At the snow line, we put on our slide gear and the guide taught us the driving and braking technique with ice axe.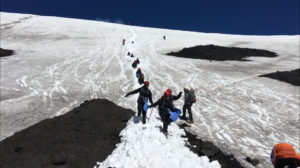 Partly very fast but sometimes also slowly it went downhill. Also the last ice-free distance could be run downhill very well and so we reached in 2 hours again the valley station and were at 16:20 o'clock back in Pucon. There was a beer and a piece of pizza for everyone. Back at Sarina's "Elementos Eco Lodge" we cooked broccoli with pasta together and let the day end with a nice dinner.
Silke