I had another look at the parrots this morning, some of which are unfortunately plucking their feathers badly. However, all the animals are lovingly cared for and some parrots can even talk.
Cat Tini got some more petting and then we went on to Mosselbay. We are staying in a cute apartment (La Vue) with a sea view today.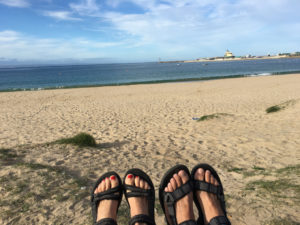 We went shopping and to the beach for a bit. In our small kitchen today we baked spinach with feta cheese and mini pizzas. Eaten during the sunset on the balcony. Afterwards we planned and booked a little bit.
Silke