Today we snorkeled extensively. To do this, we only had to walk the hotel's own jetty into the sea and could directly admire the coral reef and many colorful fish. A lifeguard is also on site in case someone has problems swimming. It goes steeply over 30 m into the depth. But you just have to let yourself drift. The water is clear and we had no problems with the current. Of course, some idiots step on the corals. There, too, the lifeguard has to use his whistle more often.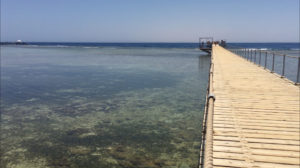 In the evening we went to the Egyptian specialty restaurant Sofra. A very nice atmosphere and table service.
I like the food for vegetarians better at the Magico Restaurant Buffet. Afterwards we had a party in the lounge and some cocktails.
Silke
Ps: Have both sunburn on the back despite LF50. The sun's rays are more intense in the sea.