Silke has kept away from the sun all day with a book on our terrace.
Today the red flag was up, so that one could not snorkel at the reef edge. Therefore, I had looked around a little in the shallow water area in front of the beach. At high tide it is knee deep to waist high there, but because of the sea urchins and corals only with bathing shoes and carefully to enter.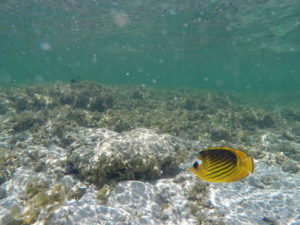 Otherwise, today was a quiet day. After a short stay at the pool, several games of beach volleyball were a nice change.
Reiner