Early in the morning Reiner walked to the diving school, but should come back later. We baked pancakes for breakfast. A nice walk on the beach led us again to the Hotel Villas Caroline, where the diving school is located. Reiner made a few appointments, then we headed back along the water.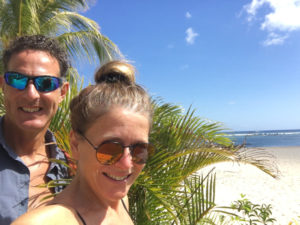 Due to the wind, there were masses of flotsam and jetsam on the beach. Among other things, many pieces of coral, sea urchins and a can of sardines.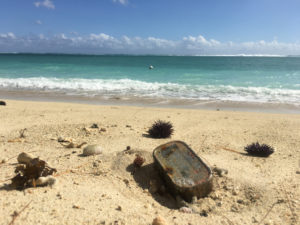 Because of the sea urchins and stone fish in the shallow water, bathing shoes are also definitely advised. We lay in the sand for a while and watched the waves crashing up on the reef edge. In the afternoon in our apartment Reiner started to study and I continued with the backpack for sewing. Then we had another mustard party (cooked too much yesterday) and fruit salad. At the end of the day we played a round of Carcassonne.
Silke