One question frequently asked of us was:
What all do you pack, for a whole year?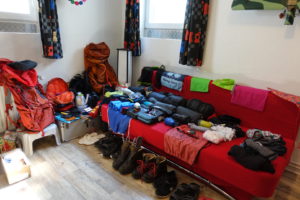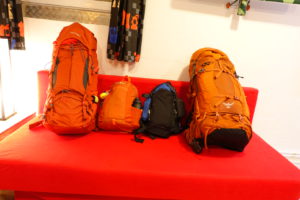 Since in the past we always liked to go on bike tours of several days,
with overnight stays and own luggage transport had undertaken, we are not completely inexperienced there.
We had most …schon times tested and familiarized ourselves with it.
Silke ´s Packliste: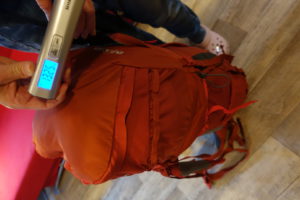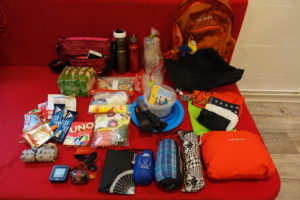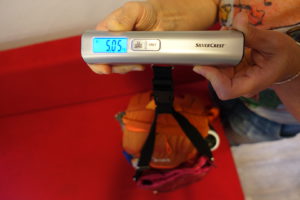 1 x Kosmetik- Kulturtasche
1328 g
1 x Hairdryer
332 g
2 x towels
153 g
1 x Erste Hilfe Tasche ( Bandage Material)
383 g
1 x Medikamente ( Kopf – Fieber – Schmerzen )
404 g
1 x Medikamente ( Allergy – Wespe )
86 g
1 x Medikamente ( Durchfall – Wasseraufbereitung – L-Thyrox )
273 g
6 x Bra, 12 x Briefs, 1 x Bikini, 2 x Fahrradunterhose, 1 x Skiunterwäsche
1094 g
2 shirts
185 g
3 x Tops
230 g
1 x Bluse kurz 132 g, 2 x Blusen lang 242 g 158 g
532 g
2 x Sweatshirt Jackets 360 g 320 g
1 x Windjacke
65 g
1 x Steppjacke
352 g
1 x Rain jacket
425 g
1 x Wanderhose + Gürtel
376 g
1 x Jeans
289 g
Socken: 2 x Merino, 1 x Wolle, 1 x Nylon, 1 x Nylonleggins, 1 x Söckchen
227 g
1 x Rock
147 g
4 Teile Schlafsachen Sommer und Winter
478 g
1 x Jogginghose
208 g
1 x Packtasche ( Sonnenhut, Tuch, Ärmel )
264 g
1 x Beutel für Dreckwäsche
64 g
1 x Winter sleeping bag
1055 g
1 x Schlafsack Sommer
1 x Luftmatratze Thermarest
604 g
1 x Rain poncho
191 g
1 x Wanderschuhe
1380 g
1 x Turnschuhe
347 g
1 x Flip Flops
155 g
1 Sandal
381 g
1 x Kissen, Schlafmaske
81 g
1 x Rain screen
162 g
1 x Reisewecker
55 g
1 x Stirnlampe
87 g
1 x UNO
159 g
1 x Krimskrams – Nähzeug
93 g
1 x " washing machine" (1 x Rei, 1 x powder, string, a few clothespins)
316 g
1 x "dishwasher" ( detergent, brush, rag)
129 g
2 x plates , 2 x plastic bowl/lid
184 g
2 x titanium cutlery
107 g
1 x bottle opener/corkscrew
57 g
1 x "coffee maker" (immersion heater and plastic cup)
328 g
2 x drinking bottles 0.75 l
250 g
1 x bread knife
38 g
3 PE bags
18 g
1 x handbag ( valuables, sunglasses, cell phone, …)
1167 g
1 x trekking poles
495 g
1 x no words dictionary+1 x kl. bible (always wanted to read)
200 g
Various bagged soups + energy bars
? If there is still room

Total weight including backpacks:

small daypack + handbag 5.05 Kg,

large trekking backpack 13.50 Kg
Reiner 's packing list: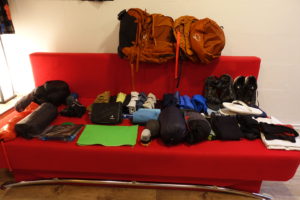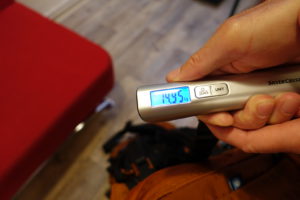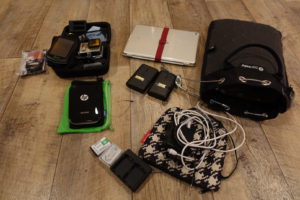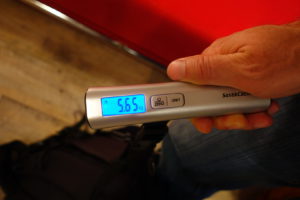 Reiner