Big fright in the morning. We were punctual, but we had caught the wrong station! (Would have been better to have the ticket re-filled/read). We decided to take a taxi to the long-distance station because there were huge crowds in front of the subway station. Unfortunately, road traffic then made a dent in our bill.The train was already gone!Luckily, in the train departing 2 hours later, there were still 2 places available, to which we were rebooked without any problems.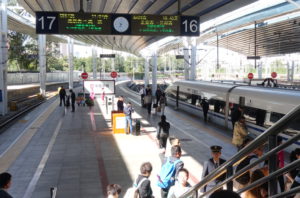 Long-distance stations look more like our airports. To get to the station you need a valid ticket. The waiting halls are divided by train numbers. Only shortly before departure you get to the platform. The trains are cleaned from the outside and inside at entrance (including windows!). Food and drinks are served to passengers at the place. There is also a small bistro. The train was modern and clean.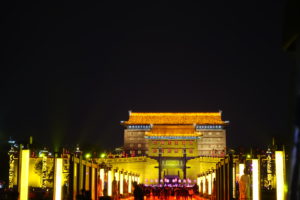 We were greeted by a spectacle on the city wall with colourful lighting.
Silke