Today we actually wanted to do a bike ride to the lake. Instead, we took the metro to the station and made a few rebookings. The night train today we now drive soft-not hardsleeper. We cancelled two subsequent train journeys and booked one flight for it. In addition, hotel reservations had to be adjusted. Thus Kunming has been a little shorter !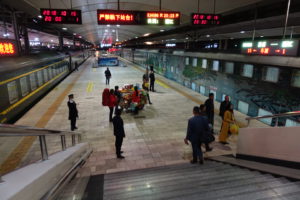 In any case, the night train is a positive surprise. It is double-storey. In the lower aisle are 4-bed compartments in which the odd numbers are the lower beds. In the upper aisle there are 7 VIP compartments with double bed at the bottom and single bed at the top.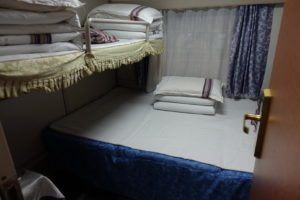 Everything is very clean and the beds already covered. There is a thermos, slippers and toothbrushes in each compartment. Also the train restaurant is nicely furnished and it is freshly cooked! We enjoyed a portion of fried rice and a beer.
Silke