This morning we still had enough time to hike to the largest prayer wheel in the world at 21 meters. It is located in the old town on a hill at Guishan Temple. For the view of the wooden roofs of the city, the stairway is worthwhile. You have to work with several people to get the gold-shining mill going.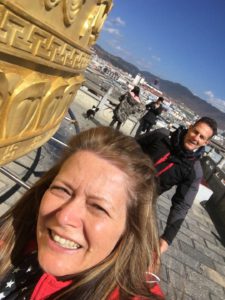 At one o'clock at noon we went by bus again 4 hours in the direction of Lijiang. On the way, the bus takes a pipi break at a road stall. You can also buy sweets or drinks there. The buses are washed by the rest area staff with high-pressure cleaners, brooms and pullers.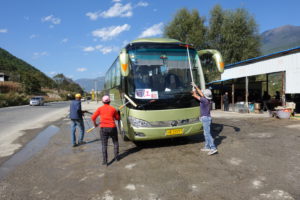 In Shangri-La we had -2 to 14 degrees and in Lijiang it is 7 to 22 degrees. (jacket on/jacket off).
Silke