Today we took a nice hike along the rice terraces. It went from Sapa about 13.5 km through Lao Chii to To Van. Good hiking trails off, parallel to the road.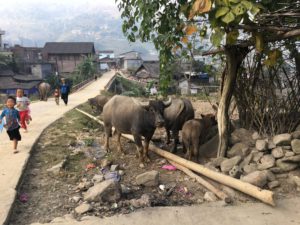 Through rice fields, bamboo groves, banana trees, huge ferns and waterfalls. At times you are in the middle of the "jungle".In the villages there are many "homestay" possibilities.We have seen water buffaloes, pigs and chickens. How children bottle dried rice and how to work in the fields. Various artisans offer their wares. Restaurants, massage parlours and small shops are also plentiful.At a vantage point we stopped for a short time and drank something.Back to the hotel a taxi gave us up ( 50,000 Dong).
In the evening we discovered our new favorite restaurant "Good Morning View" not far from our hotel. The fried spring rolls, my eggplant tofu curry and Reiner's fried duck with honey and sesame were very good.
Silke