Since we did not find a suitable hiking trail, we took the taxi from Sapa to Silver Waterfall. The tour cost 200,000 Dong. The Silver Waterfall (20,000 Dong pP. fee) is quite narrow and high. You can climb a flight of stairs up to a bridge on both sides and look up there. It took us a good half hour for the circuit. From Silver Waterfall to Love Waterfall it is about 2 km. You go uphill at the roadside next to the main road. Not so pleasant, we would have preferred to rent a scooter for today. (I didn't want to, because of the road conditions and because I don't like riding a motorcycle). At The Love Waterfall there are another 70,000 Dong pP. Admission to be paid. From the entrance to the waterfall, you walk a few hundred meters over well-developed hiking trails and stairs. We observed for a while a herd of water buffalo esmining well in the mud. The waterfall is very nicely located in the forest and there are several possibilities for bathing. Although the water was quite fresh and I didn't have a towel with me, I took the opportunity.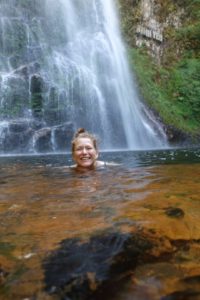 It was super cool. Reiner didn't want to. But one has to take the photos!
Back we were taken by a bus. For 30,000 Dong pP. he took us back to Sapa. We sat between potato sacks and boxes from which it chirped. The driver first plugged in a water pipe at a stop where a package was picked up. Pretty relaxed tour!
For dinner today there was delicious pumpkin soup and tofu curry served in the coconut.
Silke