Today we did a trekking tour to Ta Phin. The weather was ideal at 22 degrees and pure sunshine. On the hiking trail we passed many rice terraces and bamboo forests. In total it had been 16.5 KM on foot and back about 10 km by bus and car. At a barrier along the way was a sightseeing fee of 40,000 Dong pP. Collects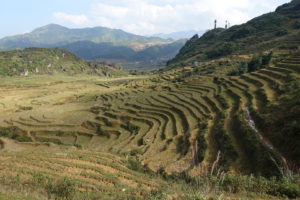 There is a cave that has not yet been developed for tourism, the Taphin-Cave, in The Phin. You need flashlights and can climb a maximum of 300 m into the caves. We only made a few meters, it was partly very narrow and also very dark. There are also locals who would take a guided tour with a flashlight for a little money.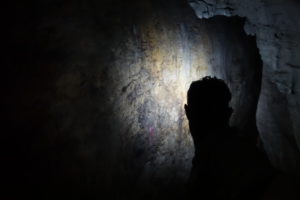 On the way back we were taken this time by a bus with a French tour group. They were very funny, but had to go not to Sapa but to Lao Cai. On the main road we took a taxi for the remaining 7 km. (Taxometer 80,000 Dong). In the "Morning View" there were Hmong vegetables for me today: – chayote (tastes like kohlrabi), – leaf broccoli (like spinach), – pak choi (coal) and various herbs with rice and for Reiner a traditional Vietnamese farmer's dinner – grilled pork on a skewer and bamboo rice with sesame salt and peanuts, in addition a few "Hanoi beers" and cinnamon.
Silke