Today is another day of travel. We started with the Sleeping bus at 8:30 am in Sapa and thanks to long trousers, socks and jackets we did not arrive frozen this time! Funnily enough, there was an unplanned "boxing stop" just behind Lao Cai due to a tyre breakdown. But it only took about 15 minutes and we were able to continue.
In Hanoi we took a quick look at our hostel to see if a refund will be granted because of our Halong Cruise. Will not, we unfortunately have to pay tuition fees and do more research and compare on site for further bookings. OK, ticked off!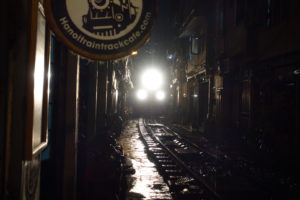 While I was reading at Highlands Coffee and chatting with the children, Reiner, despite the rain, went long on the reunification express line and waited for the train. The train travels through a residential street in the middle of the city! Great photos and videos. Since he had no cash with him, an Italian invited him for a beer.
Silke