A good 15 hours driving time in the Reunification Express SE1, this time softseat in the wide-body car, brought us overnight at a speed of usually less than 50 km/h to DaNang.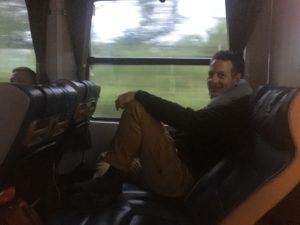 Softseat is more suitable for shorter distances during the day. It was a bit uncomfortable, because our seats were slightly defective and for the first part of the night an older woman had opened her "camp" directly under our backs. You can probably also ride without a seat! There are 4 and 6 sleeping cars, but they were already fully booked. This time, the trip cost only 584,000 VND pP.. Included in the fare were served 2 times foil dinner (rice or pasta with meat in sauce) at the place. In addition, service employees with various offers such as.B corn cobs and drinks come through the wagons for an extra fee.We tried a rice fruit pastry. Tastes like moist gummy bears. The train had a restaurant with wooden benches and there were only staff sitting or lying in it. We haven't tried it. There is also a hot and cold water vending machine in each car. The last two hours of the route are mostly on the coast and offer a magnificent view.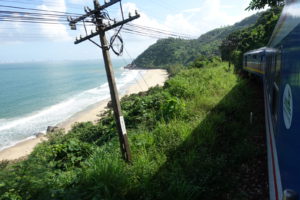 DaNang Station is about 30 km from our destination HoiAn. We are using a large-capacity taxi for 80,000 Dong pP. driven directly to our hotel. After checking in at about 16:00 we took hotel bikes to the stand about 200 m away and went swimming in the warm waves of the South China Sea in 30 degrees heat. In the evening we didn't want to go out for more food, so we bought a bottle of wine for the room.
Silke