Today we learned something about Vietnamese cuisine again. And that's how rice noodles are made. The grandfather and uncle of our hosts run a rice noodle shop in the neighborhood and we were allowed to look over their shoulders. It's very hot there! At over 30 degrees outside temperature, a cauldron of coconut wood is fired to create pressure for the pasta machine and hot water to boil. The pasta mass of rice (which was put into water for a day and then ground) is filled and runs with hot water from a kind of shower head like spaghetti on a conveyor belt. At the end of the ribbons, the noodles are collected in sieves and cooled with running cold water. They are then packed in portions in plastic bags and sold on the market. They produce about 200 kg per day.
We got a portion and I was allowed to cook in our Quoc Phuong Riverside Homestay. So to speak, a private cooking-class! Our nice homestay mother has already collected the ingredients and we just had to wash, nibble and fry.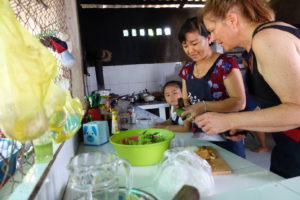 Recipe: A handful of rice noodles in a bowl, cucumber, salad, various creams (basil: Bai Horapa tastes like liquorice, Bai Krapao is a bit spicy, Bai Maenglak is rather lemony) from your own garden on top, spring onions, tofu fried in oil, soy sauce, roasted peanuts and dried onions on top! With pure instead of the tofu, beef and fried spring rolls on the noodles and salad.
And then it was eaten on the terrace under a reed roof directly on the river. Delicious!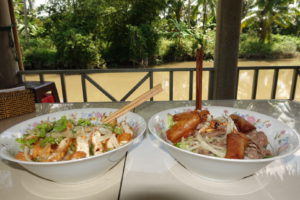 In the afternoon we sped off the calories and made a 36 km long bike tour across the island to My Tho and back.
By the way, we changed the bungalow today and are now in a river directly with bast walls and own terrace. Beautiful!
Silke