Today we had accepted the offer of our homestay for a 5-6 h boat trip with various stops (30 USD pP).
Our hostel father outwitted me a little bit and the first km we had to ride on the bike. Well, I survived.
The boat trip was great: we were alone with our captain and he showed us many interesting things.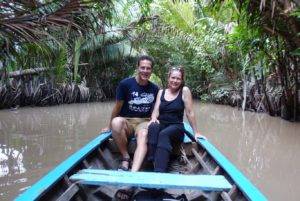 Fish farms on land and floating in the river, for carp, catfish and snakeheadfish. – a cocoa plantation and a chocolate factory chocolate with a high cocoa content and e.B. cashew, chilli or coconut flavor , – a beekeeping, – coconut candy manufacturer (we ate a coconut ice cream) it is offered there e.B also coconut wine directly in the coconut shell and in whiskey pickled cobra (Reiner has tried)
We also changed into a small paddle boat on the way and were driven a side arm to a snack with fruit, tea and traditional music.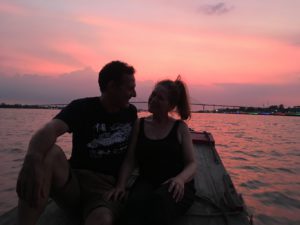 The sunset on the Mekong was also very nice. Back at Homestay, a delicious dinner with fried jackfruit and hotpot awaited us.
Silke