Because of the sand flies we had breakfast in the camper this morning. Then we went to Aoraki / Mount Cook National Park. We walked the Hooker Valley Trail, which leads in about 3h to Hooker Lake, from where you have a great view of Mount Cook ( 3724 m ). Since it was very rainy, we unfortunately did not have them. The hiking trail is very well developed, and leads over several suspension bridges. On the slopes you can see the ice melting. The glacial streams become ripping streams. Beautiful flowers grow on the meadows. In good weather certainly dreamlike.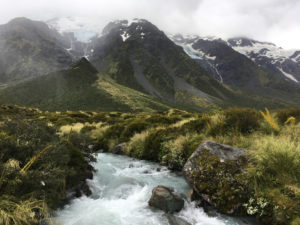 In any case, we got really wet. On the way back I found a portmonaie in the toilet. We handed this over at the Visitor Center.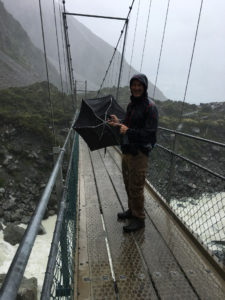 Back on the road and in the sunshine we discovered Lindis Pass, a lookout point at the roadside, where you could hike a good bit steeply. We had a phenomenal view.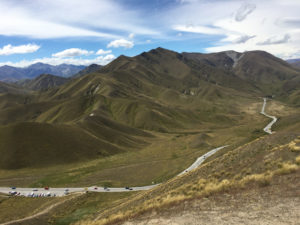 Arriving in Wanaka tonight we are again on a DOC camping ground on the main road. We were shopping for a short time and tonight there were wraps with beans.
Silke