In the early morning we started to Milford Sound to get places for the 9:00 am cruise through the fjord landscape. On the ship there was a breakfast buffet, which we booked with us. The weather was rainy at first, but then cleared up a bit. There were an extremely large number of sand flies on land. Autan and the mosquito from Vietnam did not work. The Cruise was great. We drove out and back to the sea at high rock walls, rushing waterfalls, and a seal colony. The whole thing took about 1h45min.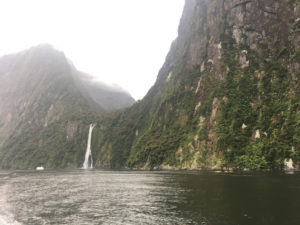 Back on the road we made stops at The Chasm Waterfall and Mirror Lake. At the Homer tunnel we met again the funny, this time rather wet Kea parrots. And then came a bird out of the bushes, which looked like a kiwi bird.
But was none, but a wealyan. At 3:45 p.m. Then suddenly the "Red Lights" flashed in the dashboard. The van was difficult to drive to the side. The V-belt tensioner was broken. Wendekreisen, our landlord, has sent a breakdown service to us, which has towed us back to Te Anau about 30 km.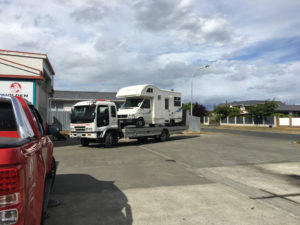 Must probably take half the car apart to repair it. Actually, we wanted to get to Queenstown today. Now we have to change our plans and stay in Te Anau.
Silke