At 9:00 am we were picked up punctually by shared cab and driven to Calama airport, 1.5 h away. With JetSmart we left at 12:00 o'clock to Santiago de Chile. We rented a car in the airport and continued to Valparaiso on the Pacific coast. The city is built on hills, with many very steep old cobblestone streets.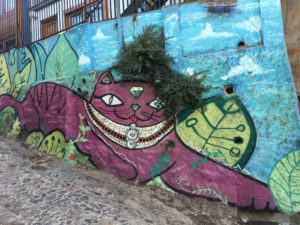 Our hotel "The Travelling Chile" is located on a hill above the old town. We took a short walk through the alleys. We did one piece of steep incline in a kind of cable car for 100 CLP per ride. We have not seen so many beautiful graffiti walls as here in the accumulation. Virtually every wall is artfully and colorfully painted.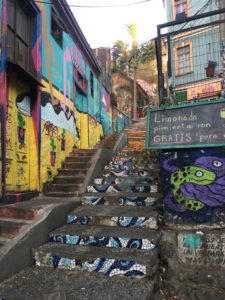 The steps are also decorated with mosaics or paintings. On the steps some groups sit together and celebrate or drink alcohol. In a bakery we got some puff pastry filled with cheese for dinner from a former Cologne. Many stores were closed because today is Sunday. Sunset was not until 20:11 with temperatures ranging from 12 to 20 degrees Celsius. Our small apartment has a balcony with a great view to the sea.
Silke