This morning we had breakfast and did some research. Around noon we rented bikes (6h for 3000 CLP per bike) to go to the "Valley of Death" (Valle de la Muerte). In total, we were just under 20 km on the road.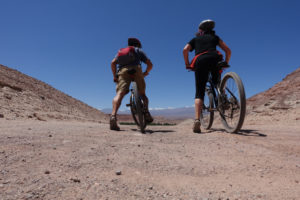 With a little detour we reached the entrance gate, where you had to pay 3000 CLP entrance pP. The gorge is really gigantic. Different colored sand, salt, steep cliffs and dunes. From the gate it went about 3 km meandering upwards to a shelter and parking lot. There some people did sandboarding. Climbing up the huge dune with the board and snowboots and then a short descent. The guys and gals from GB and Australia had fun anyway and enough water with them. We also met a group of riders. From the site we still had to hike about 1 km uphill to the viewpoint "Mirador", from which you could look far across the desert to the snow-capped mountains and San Pedro de Atacama.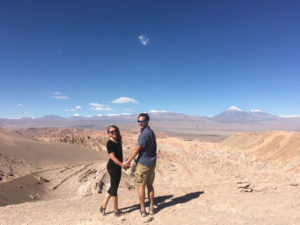 Back again, we whittled salad from the leftover potatoes and eggs from yesterday. Unfortunately I put a little too much Uyuni salt in it. After dinner, we went with a bottle of wine to Sarina, Carlos and Kids in their vacation home, where we again reviewed our Uyuni tour and exchanged photos. We agreed that the question of an Israeli in the salt hotel for salt for the soup was one of the funniest. Because really almost everything was made of salt. And we are all still alive and well thanks to "super alarm clock" co-driver Carlos.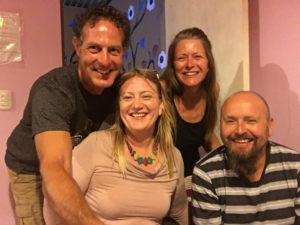 We laughed a lot, it was a nice evening.
Silke