At 3:30 o'clock with 3 degrees Celsius and bibber cold wind we got up today and started at 4:30 o'clock to our third day in the salt desert. We packed the breakfast pancakes for later. Most of the time we drove "offroad" through the sand. No roads. Carlos on the passenger seat had to wake up our driver "Rudi" several times yesterday, the Carnaval was probably very exhausting. Also today he did not make a very awake impression. The jeep had neither air conditioning nor heating, to de-ice the windshield Rudi put a plastic bottle filled with hot water on the dashboard. In his moments of wakefulness he drove like in the Dakar Rally, which actually already led through the Salar de Uyuni. At the photo points he then met up with his colleagues. But we could have done worse. From other travelers we heard that the drivers were drunk, or in the middle of nowhere the car broke down. So in that respect, everything was ok and we all achieved our points.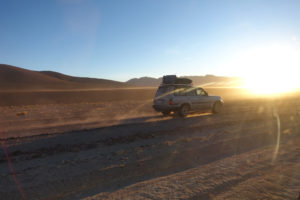 At sunrise today we saw geysers steaming, and at 8:00 am I went swimming in the hot springs near Potosí. The water was bathtub temperature and after two days without a shower it was wonderful. The kids were too cold, Carlos put his feet in, Sarina struggled with the high altitude air and Reiner had a bit of a stomach upset, so I was the only one out of our jeep in the water.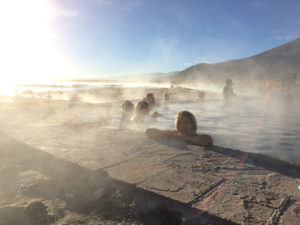 The springs are located directly at the volcanic lagoon "Tarapaya". There were llamas and flamingos running along the shore. Then we saw "color layered" mountains and many different "moonscapes".
At 9:00 am we reached the border to Chile in Hito Cajones (4480 meters above sea level). First from Bolivia leave, approx. 20 minutes queue before the border house, then in Hito Cajones entry to Chile with customs control again good 30 minutes. From there it was then still 45 km, which drove us a small bus. In San Pedro de Atacama we rented a room in the Hostal Siete Colores and had a look at the city. In small stores and on a vegetable market we have bought for the dinner. Today we had jacket potatoes with Uyuni salt!
Silke