We all slept quite well in the salt hostel. One toilet for 20 people was a bit sparse, but surprisingly you wouldn't have to stand in line. Our driver picked us up a little later than we agreed, so we didn't leave until 10:45. Today several lagoons with flamingos were on the program. The flamingos are in shallow water.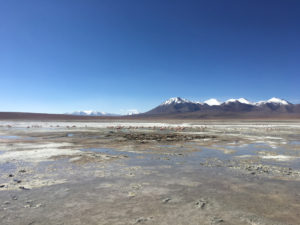 At the second stop I sunk so deep in the mud,it took my shoe off. I looked worse than after a mudflat hike! Also many llamas and even two ostriches were standing at the roadside. It went kilometer far by desert landscapes, which would go through smoothly as moon landscape. An active volcano was also visible from afar.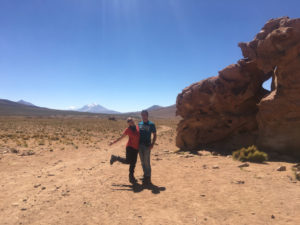 In the evening at the accommodation, again a 6-bed room, I first washed my feet and put on warm clothes. For dinner we had vegetable soup, spaghetti with tomato sauce and a bottle of wine. We go to sleep early today, because tomorrow the alarm clock will ring at 3:30 am.
Silke