After our rather meager breakfast, we went to the town to draw cash. Only one ATM still had cash because of the carnival days. Accordingly long was the queue. But after half an hour we had our money and could go on the planned tour to the salt desert and the salt lake Uyuni.
Yesterday on the train we met Sarina (ex-Bremer) and Carlos (Chilean) with their daughters Nayeli and Nagore and spontaneously joined their jeep tour 3 days from Uyuni to San Pedro. We were picked up at 10:30 am from our hotel and then we went first to the locomotive cemetery. Many old steam locomotives stand in the middle of the desert and rust away. Behind them the panoramic landscape of the Andes.
After that, we drove to the huge salt lake, which is usually dry at this time of year. However, our jeep drove through knee-deep water, because there have been very heavy rains in February. The salt crust is up to 80 meters thick and there is water underneath. Once in the salt we tried to take pictures with optical illusion, because this is especially possible here. This was more difficult than we thought, because the depth of field has to be taken into account. In the end, though, we managed to get some nice photos.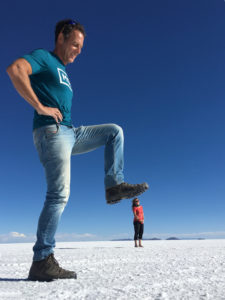 After that, we went to a water level spot where you can take a funny shot of your reflection in the water and the clouds. The sunset on the lake with a bottle of "Beck 's" was also very spectacular. Lunch and dinner is included and I got omelet with vegetables. They also had potato soup, chips and chicken for the non-vegetarians.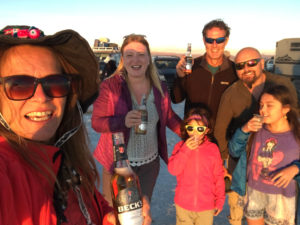 We sleep tonight in a surprisingly cozy salt hotel in a 6-bed room.
Silke