Very comfortably we traveled today, from 14:30 to 21:20, with the "Expreso del Sur" from Oruro to Uyuni. It runs only Tuesday and Friday. And then there is a second train on Wednesday and Sunday that runs the route from 19:00. These are the only passenger trains that leave from Oruro!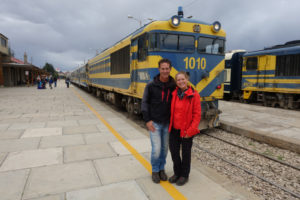 We sat first class in padded armchairs with plenty of legroom. There were blankets and fans. There were several movies in Spanish playing on a TV in the car. There was also a piece of prepackaged cake and a tetra pack of juice. The second class differs from the first with smaller, not so comfortable seats, but was also all nice and clean. In the evening we went to eat in the train restaurant (40 seats). The steward cooked everything fresh on an open flame ( just peeled potatoes). There was a good crowd. We got the last omelet with vegetables and the last 2 cans of beer. Was delicious.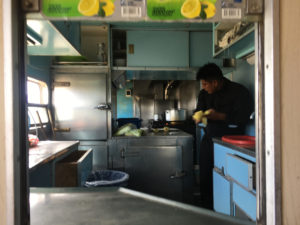 The train ride itself offered a great view of the landscape. Large expanses of water next to the track where the train flushed flamingos, dogs racing the train, lots of llamas that couldn't be bothered. The mountains in the background, steppe, vastness and a beautiful sunset. We also met a colorful mix of very nice people on the train. Japanese, Canadians, Chinese, Austrians, Argentinians, Chileans and an ex-Bremer. Maybe we will see one or the other again on our upcoming 3-day trip.
Silke