The Monday of the carnival in Oruro is dedicated to the Diablada and Morenada. These are traditional dances, which should remind of the colonial times of the Spaniards. Indians and later also African slaves had to do forced labor in the silver mines at that time and were driven there chained together (rattles). The Morenada is said to commemorate a slave uprising in which a beautiful slave girl distracted the slave driver and got him drunk. As a result, the caporal (slave driver) had to stomp grapes. The story is re-enacted with costumes in the folklore festival square in front of the cathedral "Iglesia del Socavon". Also the fight between the angelic army around Archangel Michael, against the devils (or deadly sins) is performed dancing. All in honor of the Virgin of Socavon (patron saint of miners).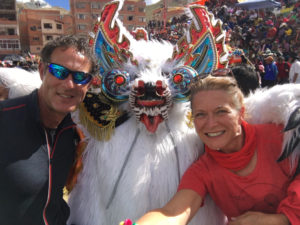 In the afternoon, the dancers say goodbye to the Virgin. They enter the church dancing without masks and ask for strength and success for the coming year. We had to admire the condition of the carnival dancers. After three days of almost dancing uphill in heavy costumes and sometimes adventurous shoes!!!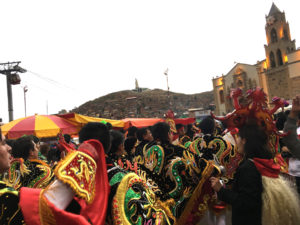 We took the cable car in between to the "Monumento a la Virgen del Socavon" , a large statue of the Madonna on a mountain. From up there you have a great view over the city. We also had a look at the church. Very beautiful with blue sky and many angels. There was also a devil mask with lots of fresh flowers at the feet of the Virgin at the altar. In front of the church there was a kind of fair. Among other things, whole cakes were auctioned off like in Hamburg at the fish market. We ate baked bananas and corn on the cob. After dark we took a cab back to our hotel.
Silke