At 6:00 am we walked to the agency to start the tour to the Magellanic penguins on Magdalena. At sunrise at 7:30 am our bus arrived at the boat dock. With about 50 people we went leisurely in 70 min on the "Carlos III" to the offshore island. On the way the crew members called us to the roof of the boat because whales were sighted. And indeed we saw whales surfacing a few times on the left and right. Docked on the island, we are allowed to stay for one hour, walking once to the lighthouse and back on a marked path. This is plenty of time.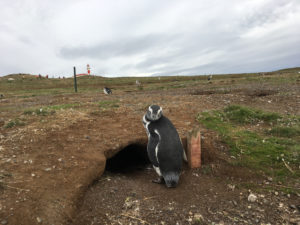 Along the way, we encountered numerous young penguins that will have shed their "baby feathers" in the next few weeks to then follow their parents into the sea. Next September (in Chile spring) the penguins will come back to breed here. The penguins find the tourists at least as interesting as we find the cute animals. It's very noisy and busy on the barren island, which looks a bit like a Swiss cheese, so riddled with holes.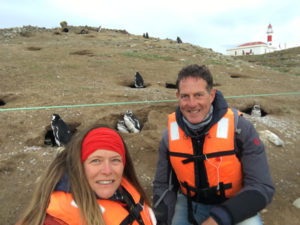 After our visit, we were very happy that it seems to be ok for the penguins to have "visitors" too. Afterwards, thanks to the good weather, we could still visit Marta Island with its huge sea lion and cormorant colony. There we did not go ashore, but watched the animals from the roof of the boat. On the way back, around lunchtime, we dropped off at the edge of town to roam the stores in the duty-free area. In an outdoor store we found a long sought after immersion heater. Now that there have been several accommodations without a kettle and I sent our old one with us to Germany! In the evening we prepared spaghetti with tomato sauce and iceberg lettuce with lemon to us.
Silke