The bus of JBPatagonia (12000 CLP pP) drove us at 7:00 o'clock in two hours to the entrance portal "Laguna Amarga" of the national park "Torres del Paine". Here you pay the park entrance fee of 21000 CLP pP for a ticket valid for 3 days. Then we continued with the shuttle bus (3000 CLP pP) to the trekking entrance at the hotel "Las Torres". At 10:20 am we started our 19 km hiking tour to the Mirador las Torres. The first 7 Km were no problem slightly ascending and beautiful hiking trails. Then it became steeper over boulders so also strenuous and slower. So we reached the viewpoint only at 14:50. And we saw – not much!!!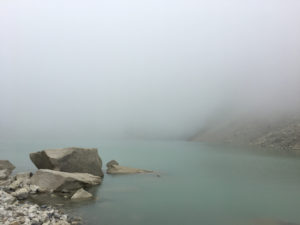 So we waited for half an hour and it was worth it! Little by little the clouds moved on and we had a view of at least 50 percent of the "Torres del Paine".( With reflection in the water almost 100 percent).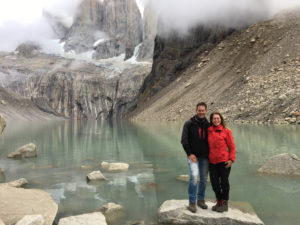 The way back was easier again because downhill but we had time on our hands. Our bus from Laguna Amarga had departure at 19:45. So we hardly allowed ourselves any breaks. One stop to fill up our water bottle with glacier water, very refreshing! And one stop to admire horses, (a herd of about 50 horses) which were back on the pasture in front of the hotel after their tour. At 19:00 we sat safely in the shuttle bus and reached our connection comfortably. For dinner today we had a quick noodle soup!
Silke