On Monday, the 25.3. we went immediately at 9:00 o'clock to the travel agency Vertice Patagonia to book overnight stays in the glacier area. Online was nothing to do. Although it is almost off-season, the hostels and campsides are partially booked. We were lucky and for 2 nights a built tent in the "Paine Grande" get. At 12:00 still drove a bus, so it went holterdipolter again in the national park. At 14:20 we had to re-register at the park entrance, but since the tickets from Saturday were still valid, it went quickly. The weather was optimal and there were nicely a few photogenic guanacos (small llamas) running around before the ride continued into the western part of the W trek.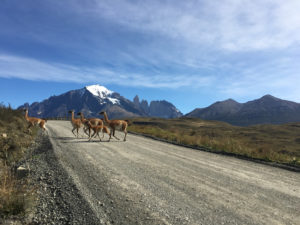 The bus took us to Pudeto, where we took the catamaran ferry to Refugio Paine Grande. 1.5 h turquoise blue water on Lago Pehoe and a beautiful view of the mountains. Upon arrival at 5:00 pm we were able to settle into our assigned tent.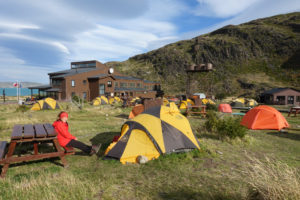 In the communal kitchen, everyone unpacked their gas stoves. We had the only electric immersion heater. Most of them had noodles, we did too.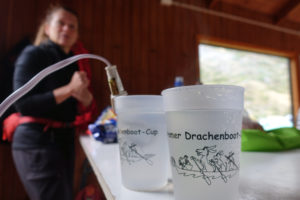 ( Park entrance fee 3-days in a row (unlimited in the park): 21,000 CLP pP, bus round trip: 15,000 CLP pP, catamaran round trip: 30,000 CLP pP, camping: 6,000 per day pP, tent: 20,000 per day).
During the day we had sunshine and 17 degrees, at night it was 5 degrees. We combined the sleeping bags with the silk sleeping bags and kept the jackets on. Was nice and cozy!
Tuesday 3/26 – Alarm rang at 6:30am and we had porridge and coffee at 7:00am. 7:45 am at sunrise we left for our hike to Mirador Grey. We were amazed to see two young foxes frolicking right outside our tent.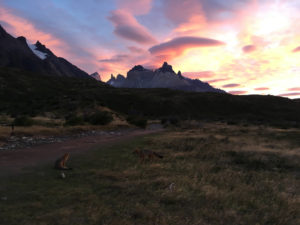 Today's stage took us 3.5 h to get to the viewpoint on the glacier, which is really huge. We went right up to the water and were able to lick the ice.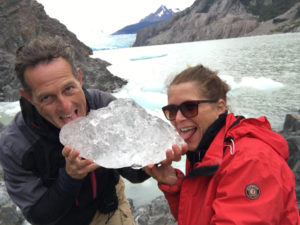 We continued walking for about 2 h towards Guarderia Glaciar Grey and came across two high suspension bridges to another viewpoint from which you can look down on the glacier ice. On the way back we saw parrots and a hawk up close. 19:30 back at camp we were pretty exhausted after 31 km of walking. With our electric stove we made some bean soup. We had a tetra pack of wine to go with it!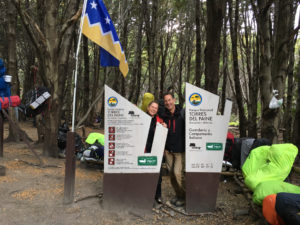 On Thursday, 27.03. we had to get up early again. We packed our backpack and deposited it at the Refugio for 4,000 CLP. Today we went to the Mirador Frances ( the inner prong of the "W") . 20 Km over the currently closed Camp Italiano through the Maggelan forest. At the Mirador we had a great view of the Paine Grande, Castillo, Cota and Catedral. Shortly after we reached the Mirador it started to rain slightly. We still had a good view and on the way back a big rainbow. Back to Puerto Natales we went with the ferry at 17:00, from Pudeto at 18:30 by bus, so that we were at 21:30 again in our accommodation, where we had left by the way a large backpack with things not needed. The hot shower was wonderful!!!
Silke