A wonderful breakfast with homemade bread, homemade jam, etc. awaited us this morning. The view from the terrace of the Blyde River included many peacocks, impalas and monkeys.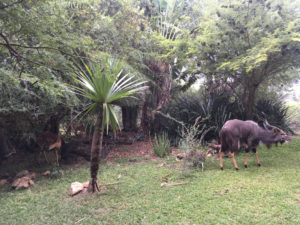 After that we went to the "Panorama Route" , where we promptly got lost and had to drive properly test track offroad through the African bush (more than 40 km).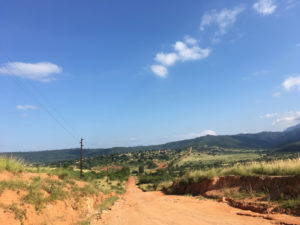 We didn't encounter any other tourists on this section. Unfortunately, we didn't get to see all the waterfalls and wild animals either. A small monkey, many goats and cows and also the local residents looked at us in wonder. At some point we reached the paved road again and the Pinnacle Rock, a 30 m high quartzite rock column in a deep gorge. Back it went somewhat more pleasantly over alphaltierte roads however also again 2 h longer than from maps.me calculate. In the hotel we got a delicious candlelight dinner served in 4 courses. There was salad, potato soup with pumpkin bread, vegetable lasagna and brownie with caramel sauce.
Silke