Today we had booked an overnight tour in the Kruger Park. We left at 10:00 and ended up seeing a giraffe, zebra and 2 bird ostrich on the property of Blyde River Wilderness Lodge.
Since the night was to be self-catering at a campsite, we bought more food and a tent and a new sleeping bag for me because the lining of the old one had disintegrated into nothing. When we reached the Phalaborwa gate punctually at 14:00 o'clock we were not allowed to start the tour, however, because our VW Tiguan SUV has unfortunately nevertheless no four-wheel drive. With such a "small car" it would be impossible to drive the route, unless you risk a total loss. What the ranger proved to us by photos he had taken of a dented jeep from the last tour. Since the internet description recommends a 4×4, but 2×4 are also explicitly allowed, the manager of the Kruger Park was called. Too bad, the tour would have been great for sure, because off the beaten track. But we got a good replacement offer and sleep instead today at Mopani Rest Camp in a nice cottage with 2 bedrooms, bathroom and kitchen. On the way here from the gate we encountered "Southern yellow billed Hornbill" (bird with thick beak), zebras and elephants that even crossed the road in front of us.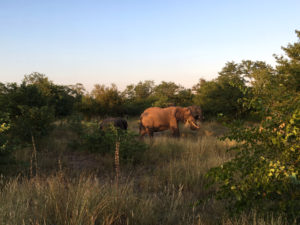 Our cottage is very nice, with outdoor kitchen and a large covered terrace, where we ate our dinner, salad with boiled eggs and buttered bread in the sunset.
Silke