All night a buffalo was grazing behind our cabin and making noise. Early in the morning we saw him. Also an elephant came by the waterhole for a short while!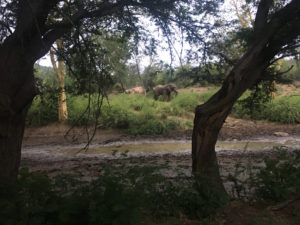 After a breakfast (funny: a frog sat on the coffee can) we all signed the guestbook and then it was time to say goodbye to Nyalaland. Chritopher delivered us punctually at 9:00 o'clock in the Punda Maria Camp again. Afterwards we went again to Mopani Camp, where we had booked a night game drive. The ranger Cindy drove us (6 guests) from 8:00 pm to 10:00 pm through the park and told us a lot about the nocturnal animals. To meet an elephant at night on the road is very exciting. Elephants only sleep about 2 out of 24 hours.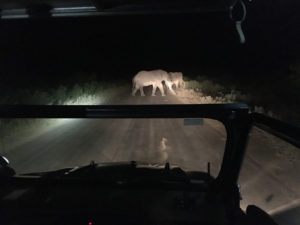 We also spotted a hippo in the bush. At night they come out of the water and eat grass. Especially the males cover long distances. They can reach a speed of 40 Km/h on their short little legs.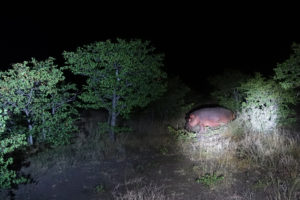 We still saw Chameleon, African Civet, Genet and hyenas. And many bats were fluttering around our van.
Silke