At 6:00 am the gates of the camps and gates of the park open. Shortly after, a caravan of different vehicles sets off. "Morning Game Drives . We should have followed the jeeps as we heard afterwards that they had spotted lions at the "Hippo Pool".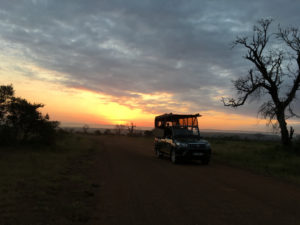 You have to remind yourself every now and then what a great place this is, with how many beautiful animals. Much too fast you get used to the sight of the exotic animals and are only fixated on the ones you haven't seen yet, just the lions. There is a giraffe running next to the road, or a herd of monkeys playing in the tree, the hippos splashing in the water and an elephant causing a small traffic jam because it doesn't want to leave the road. …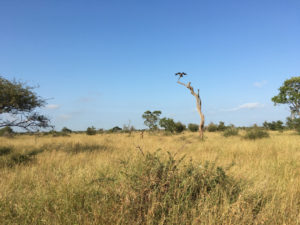 A vulture, osprey or stork hardly stands out there. Let alone the small birds, squirrels or geckos.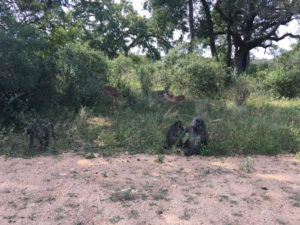 4 of the Big 5 we have seen in the last few days. Elephant, buffalo, leopard and rhino. It's a bit like playing hide and seek with the animals. You look out of the car all day and scan the area. The lions won this time. We almost saw another one just before the gate. At least ten cars and jeeps were standing there by the road searching the bush. But the lion must have lain down in the thick grass and taken a midday nap. We drove out of the park and dropped off the car in Johannesburg. We checked in again at the Terrylin Guesthouse near the airport and ate our sandwiches and noodle soup in the dining room.
Silke