We had a wonderful last day in Addo Park. We were able to enjoy our breakfast outside at our campsite. We just had to be careful that the cheeky monkeys didn't catch any of it.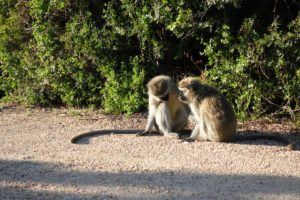 Already at the gate the ranger gave us a hint where possibly the lions could be. At the Lismore Waterhole, in the middle of the park was then showtime. A pair of lions lay relaxed under a bush as a water buffalo came to drink. When the buffalo spotted the lions, he kept walking a little closer and snorting. As if he wanted to test what was happening. Funnily enough, a bird sat down on the buffalo's back. When the lion finally rose and tumbled towards the waterhole, the buffalo left in a hurry! The lioness followed the lion and both drank at the water. Then the pair ran across the road to a hill. The whole thing lasted about 45 min. There were some cars in the meantime, but the lions did not let themselves be disturbed.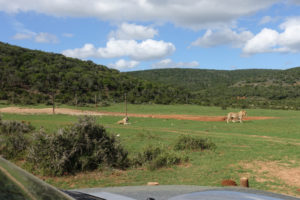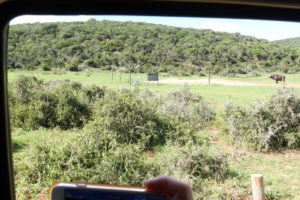 This time we were clearly in the right place at the right time. By the way, the lions have some kind of collar around. We drove on and saw many more elephants, zebras, kudus, warthogs, … on the way to the gate. When we arrived in Port Elizabeth we did some shopping. At the accommodation we had broccoli with green curry sauce and silken tofu.
Silke