We left RELaxed City living at 10:00 am and arrived at Storms River Mouth Camp at 1:00 pm. We spend the night in a Forest Hut today. We took a short walk to the suspension bridge. The surf of the Indian Ocean is tremendous. We could see seals that had no problem bathing in the waves. Cormorants were sitting on the rocks and in a tree along the way we spotted the green and colorful Cape Parrot .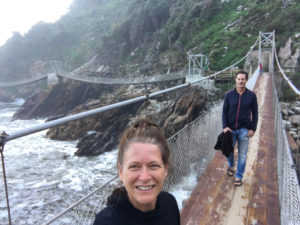 Storms River Mouth Suspension – Bridge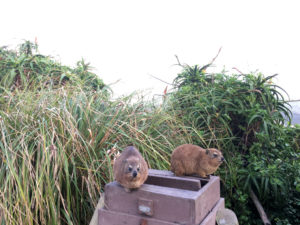 Cute rock lassies climbing around on a trash can in the picnic area. We also saw them running in the cliffs. In the evening we had pasta with schakalaka and then repacked our backpacks for the Otter Trail. Tomorrow we start.
Silke