At 10:00 am we checked out at the camp. Then watched the 20 min DVD of the Otter Trail and not much wiser signed the papers. There was a small booklet with map and tide times along the way. We would have liked more information beforehand and there was no outdoor gear like sleeping bags or waterproof plastic survival bags to buy or rent at the camp. Good thing we had researched that on the internet beforehand. In the "otter room" we weighed our backpacks (Reiner 22 Kg and I 16 Kg) and registered in the trail list. Maybe a bit too much? But we don't want to freeze or starve either.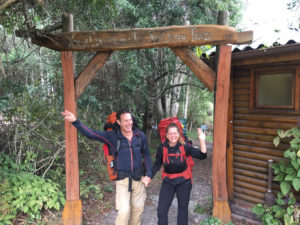 In a good mood with beautiful weather we started the Otter Trail, which is marked with yellow paws and arrows. At the Guano Cave we had the 1st rest with butter bread. There we saw seals and dolphins swimming in the water. Then we went on to the waterfall, where we could also go swimming. But the water was not so inviting, because a bit brownish, with floating particles.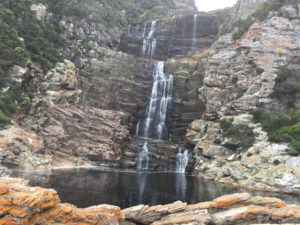 We continued climbing over rocks to Ngubu Hut. We are only 5 hikers in total. The other three are Sim with son and son-in-law. There can always only a maximum of 12 hikers daily start, because there are also only 2 huts each with 6 beds at the overnight stays. The trail is usually booked up months in advance! But we have a 6-bed hut for us alone, (for the entire trail) because there were several cancellations. With two triple bunk beds per cabin luxury! We can really spread out. The Ngubu Hut offers views directly to the sea and an outdoor shower in the forest. In the toilet at night were two mouse-sized black spiders with red eyes. Fortunately not in the hut! In the evening it started to rain and thunderstorm. We prepared mashed potatoes and tea on our gas stove.
Silke