Since my seat was double occupancy, and the gentleman in question was insisting on "his" seat, I agreed to sit somewhere else. Since the plane was really full, I was kindly moved to first class. I had never flown so luxuriously before. The seat could be extended all the way to reclining. The meal was a fresh four course meal, Served on china with a white tablecloth.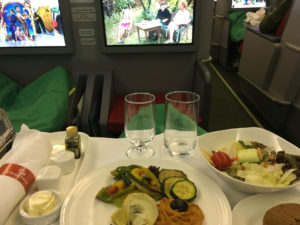 The entertainment was also higher quality and there was a quilt! You could get used to that. Unfortunately, the flight only lasted four hours and fifteen minutes. Once we arrived in Cairo, we bought a new SIM card for our cell phone and then took a shuttle bus to our hotel. After a short night we had a wonderful breakfast, with all kinds of delicious things. After checking out, we took a cab ( Uber didn't work, or didn't find a ride) to our quaint little apartment across from the pyramids of Giza. We did some quick shopping and watched the lightshow from our terrace in the evening.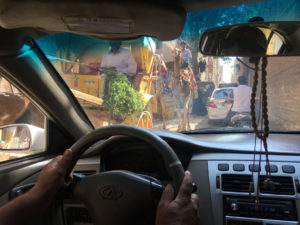 Silke
Ps.: At first again it takes some getting used to, when horse-drawn vehicles and camels come towards you on the road !