We were served an Arabic breakfast on the roof terrace. It consists of pita bread, chickpea puree, boiled egg, tomato salad and eggplant. Then we visited the pyramids. On foot, the entrance to the Sphinx is only a few hundred meters from our apartment. Outside the compound was the ticket office, 160 EGP pp….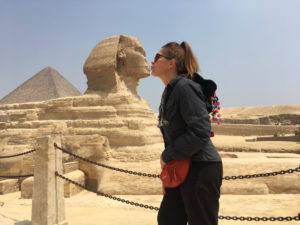 Already before the gate, every few meters coachmen, horsemen and camel drivers approached us whether we would like to ride or drive. " No, Thank You!" we said today probably a few hundred times. The animals work under the most difficult conditions. 37 degrees, hardly any shade, slopes on smooth asphalt and deep sand passages. They are sometimes driven through the streets at a hunting gallop. Even little boys race the carriages or ride on horseback. The camels are usually allowed to pace leisurely.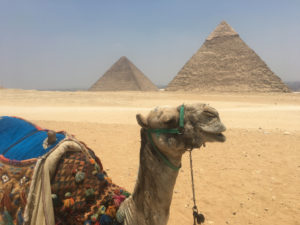 But we were eager to walk, which the shopkeepers didn't quite believe. Anyway, the Sphinx and the pyramids are impressive even up close.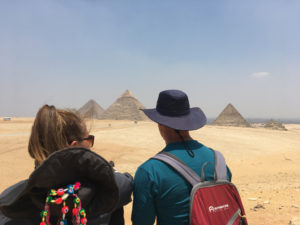 They served as tombs for the pharaohs Cheops, Chephren and Mykerinos. Incredibly, how approx. 2.5 – 3 million gigantic stone blocks (on the average 2.5 tons heavy) could be moved and stacked before approx. 4500 years at all. The construction time per pyramid was about 20 years. The Cheobs pyramid had an original height of 146 m. (If there one was not nevertheless Asterix and Obelix and the "magic potion" at work). Unfortunately there are no signposts and information boards or any information at all. If you want to visit the Cheobs Pyramid from the inside, you have to buy an extra ticket for 360 EGP pP at the main cash desk. Also the museum with the boat of the Pharaoh and the smaller Mykerios pyramid are with Zusatztickes of 100 EGP pP. viewable. We wanted to, but we didn't have that much cash left and credit cards are not accepted. We could have gone to a hotel in town and used the ATM there, but decided to leave it at the outside viewing. However, a couple of people told us that there wasn't quite as much to see inside either. A few corridors over stairs and the almost empty burial chamber. Well, maybe next time. So we walked a good 10 km on the grounds around the Sphinx and pyramids and then towards our vacation home.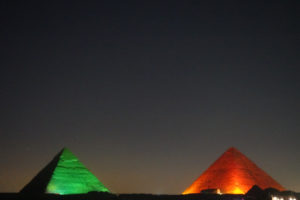 In the evening we watched the lightshow again from our terrace. It was in English and Chinese today.
Silke