We were able to store our luggage in the hostel and walked through Ulan-Ude again during the day.
The train arrived in Ulan-Ude 30 minutes late. The passengers who were already on the train were no longer allowed to get out onto the platform.By Ulan-Bator we had caught up with the delay.We didn't get much sleep because there was intensive border control twice. With face check, customs declaration, opening backpacks and compartment search. We stood one hour from about 20:45 at the Russian border for departure in Naushki, and about 75 minutes from 23:00 in Sukhe-Bator to enter Mongolia.
Besides, the locomotive (we were right behind it) whistled loudly every few minutes and it smelled quite like qualm.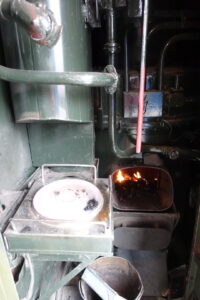 The wagon 2.Class was a bit older and the mattresses a little harder but otherwise the same as the Russian ones. There was a pillowcase, a small one. Towel and two sheets. The coal stove at the entrance was particularly interesting.
Silke