In the early afternoon we reached Beijing. On the way to the hostel we bought SIM cards for our smartphones. This went quite well at the supplier China Unicom and the employee was able to speak English. Now we have 20 GB and 300 min to make calls for 100 Yang 4 weeks of Internet. We were also able to pull cash comfortably at the vending machine.
PLoft Hostel is a former prison and comes across quite authentically. But the beds are certainly more comfortable than those of the prisoners!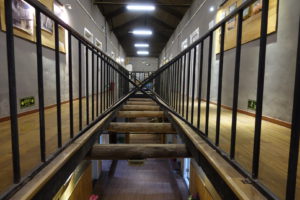 We sleep in cell 17.
Silke