Back on the train "K4" from Ulaanbaatar to Beijing! 7:30 a.m. – 2:35 p.m. + 1 day about 1500 km!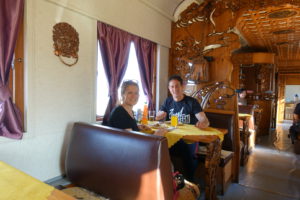 In the Mongolian train restaurant, the freshly prepared scrambled eggs with onions tasted very good! I was allowed to look into the kitchen and all the dishes are freshly cooked. There is an extra area for dishwashing – I haven't discovered a dishwasher!
The route leads through the Gobi desert for hours through uninhabited territory! You can see a few houses and yurts, a herd of horses, cows or camels from time to time!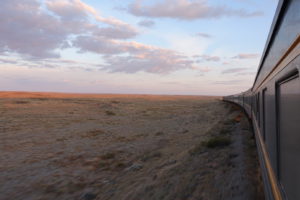 At the border with China 21:00 we have to get off with all our luggage, wait through the border control and 5 hours in the station hall for the conversion for the Chinese track width!
Silke