Today Reiner did not come out of the hostel room!Unfortunately, he probably didn't get something so good and he preferred to stay close to the toilet! Hope that the electrolyte solution and sleep will get him back on his feet quickly! (Well, we were already on the wall yesterday and are not on the train right now!)
I then (after a few errands and washing clothes) ventured into the hustle and bustle on my own.The Lama Temple is a 10-minute walk from our hostel and very nice. Most of the buildings are from the 17th and 18th centuries with many colourful details and golden Budda statues. You get a bunch of incense sticks to join them and can support your prayers in front of the entrances to the temples.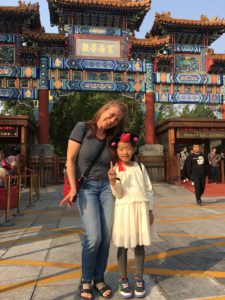 Afterwards I went to the main station to pick up our tickets. No problem, there is an extra ticket office hall. I had pre-ordered the tickets through Travel China Guide, already paid for them via the Internet and only needed to show the booking number and passports.
Then I fought my way to Tiananmen Square. This is not so easy these days, because the Subway stations are closed nearby and you are diverted everywhere, even as pedestrians. You feel like you're in an IKEA store (-; You know about where your destination is, but you have to walk a thousand detours. The square itself is decorated with a huge flower vase, the grounds and buildings are illuminated or decorated in colour. There was only a small drink and sweet cart. People just stood there, took a lot of photos and were happy. I was expecting a small program or something like that, but at least it doesn't exist Thursday afternoon and evening. Nevertheless, the place was packed!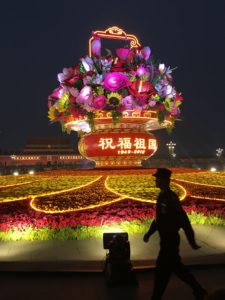 After a short stroll through Wangfujing Street, I returned to the hostel by bus and subway.
Silke